When: January 18, 2024
Where: Downtown Munich, Bayerischer Rundfunk (BR)
Hosted by: Bayerischer Rundfunk & TUM
Intended Audience: Researchers (professors, postdocs, PhD candidates) with an interest in AI and/or journalism and AI.
Join us in exploring the intersection of technology and journalism. This workshop focuses on getting to know the projects and methods being used in this exciting interdisciplinary field. And, to discover possible collaborations on use cases and methods. We look forward to connecting researchers in foundations, applications, and data! We explicitly encourage junior researchers to apply.
We want to hear from you if you work falls within one of the following topics:
Language models for text services in journalism
Dialect language model training
Data to Text, Data to Graphics projects
Automated audio fragmentation and tagging
Face recognition in video content for metadata extraction
Image or pattern recognition for investigations, e.g., in satellite imagery
Deadline for registration is December 5, 2023: https://collab.dvb.bayern/x/V5IuDQ
Participants will be selected within two weeks after submission deadline.
If you have any questions, please contact Emmelie Korell at emmelie.korell@tum.de
We look forward to seeing you in January!
The QuantWorld project aims to impart knowledge of second-generation quantum technologies in a target-group-oriented way and to make it possible to experience them. For knowledge transfer, we are building a module-based QuantWorld learning platform with certification options. The central target group of our digital QuantWorld learning platform are citizens, whom we are picking up from their workplaces for a demand-oriented introduction to the topic, whereby in this project we are concentrating on the topic worlds of "medicine", "banking" and "mobility".
We are excited to be expanding the team within the Quantum Social Lab's new project: QuantWorld for two positions.
Ph.D. Researcher and Project Associate in Quantum Technologies, Public Outreach and Responsible Technology (75%). Find more information here.
"I am very pleased that, together with Microsoft, we have succeeded in developing an AI chat system tailored to the requirements of the Fraunhofer-Gesellschaft — and we did so in a very short time," says Prof. Ingo Weber, director of Digital Transformation and ICT Infrastructure at the Fraunhofer-Gesellschaft. "We have found that many colleagues wish to use chat-based AI applications for their work and for research. However, public solutions available so far are problematic for work-related purposes, especially when it comes to data protection, confidentiality and information security."
Read the full report here.
Weber was also recently invited to the prestigious Dagstuhl seminar on the topic of software architecture and machine learning. Read more on that here.
In a significant development, the European Parliament has adopted its negotiating position on the AI Act. This paves the way for discussions with EU countries in the Council. Once finalized, the AI Act will be the world's first comprehensive legislation on artificial intelligence. As discussions continue, members of our Generative AI Taskforce are providing valuable insights into the implications and potential of the AI Act.
A common point of public debate is how generative AI will change our workforce. Isabell Welpe, Chair of the Strategy and Organisation at TUM and a member of the TUM Think Tank's Generative AI Taskforce, notes:
As the field advances at an unprecedented pace, regulatory frameworks are trying to keep up. Another member of the Generative AI Taskforce, Christoph Lütge, who holds the Peter Löscher Chair of Business Ethics at TUM and is also the director of the TUM Institute for Ethics in AI, outlines the challenges of regulation:
"The recent adoption of the AI Act by the European Parliament underscores the pressing need to regulate the rapidly advancing field of Artificial Intelligence. The AI Act represents the European Union's ambitious endeavor to establish a regulatory framework for AI. However, the challenge lies in striking a delicate balance between safeguarding fundamental rights, fostering ethical AI development, and avoiding any unintended stifling of innovation."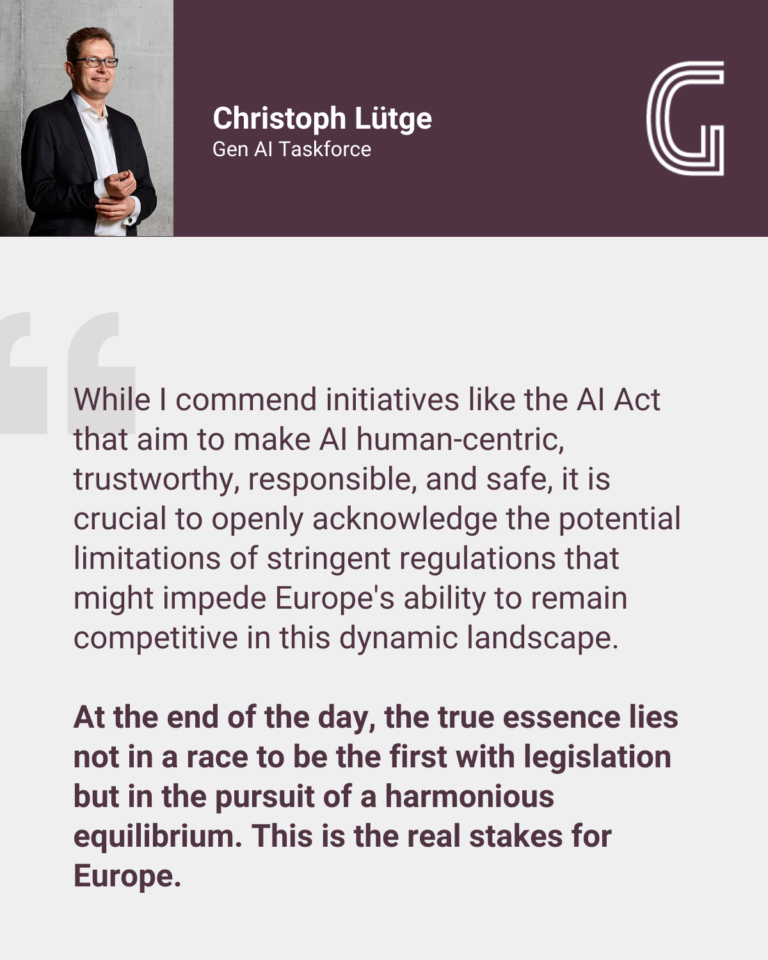 Christian Djeffal, Assistant Professor of Law, Science and Technology at TUM, shares his perspective on the details of the AI Act in a blog post, after participating in a working meeting organized by the Electronic Transactions Development Agency (ETDA) of Thailand.
He outlines his aspirations for possible improvements to the AI Act:
Dirk Heckmann holds the Chair for Law and Security in Digital Transformation at TUM and als serves as is co-director of the Bavarian Institute for Digital Transformation (bidt). As a member of the taskforce, he appreciates the European legislature's recognition of the urgent need to regulate AI with the world's first comprehensive legal framework for "trustworthy AI", further explaining:
Urs Gasser, Chair for Public Policy, Governance and Innovative Technology at TUM and Dean of the TUM School of Social Sciences and Technology, was invited to write an editorial for "Science" in which he wrote:
An undertaking to which the Generative AI Taskforce has devoted its work to.
Data is changing how we live and engage with and within our societies and our economies. As our digital footprints grow, how do we re-imagine ourselves in the digital world? How will we be able to determine the data-driven decisions that impact us?
Members of the Munich School of Politics and Public Policy (Hochschule für Politik, HfP) are participants in the International Digital Self-Determination Network, a collaborative multi-stakeholder effort that is defining and advancing the concept of digital self-determination. The concept aims to propose ways to create and engage in trustworthy data spaces and ensure human-centric approaches when living in a data-driven society. It aims to enable and bolster the digital self-determination of individuals.
As part of this collaboration, members of the HfP contributed to a co-organized conference on digital self-determination in June 2022 in collaboration with the Directorate of International Law (DIL) of the Swiss Federal Department of Foreign Affairs. At the conference, which took place in Lucerne, Switzerland, four studios presenting and exploring use cases were set up and learnings from these use cases were analyzed, compared, and discussed. HfP Rector Prof. Dr. Urs Gasser shared the collected insights with the audience and acted as a co-research partner, providing support during the conference. He organized and conducted several meetings with the DIL and the stakeholders of the studios to discuss progress made in the studios to ensure a common methodological approach and contributed to translating these findings into a draft report.
The network's research and outreach efforts were continuously supported by the team of the Professorship of Public Policy, Governance and Innovative Technologies, offering guidance, support, and mentoring to the expanding global network.
The other founding partners of the network are the Directorate of International Law, Swiss Federal Department of Foreign Affairs; the Centre for Artificial Intelligence and Data Governance at Singapore Management University; the Berkman Klein Center for Internet & Society at Harvard University; and The GovLab at New York University.